TDI Advanced Wreck Diver
This course provides training and experience to competently conduct advanced wreck dives. This program includes penetration skills and techniques. Depths shall not exceed the level in which the diver is trained and competent, but in no case shall the maximum depth in this program exceed 55 metres / 180 feet. The objective of this course is to train divers in the proper techniques, equipment requirements and hazards of wreck diving.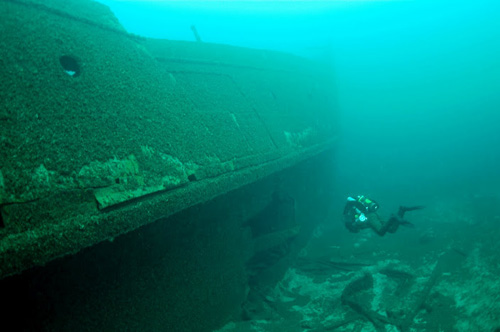 Classroom
The classroom portion of this class will review:
Equipment Considerations
Procedures
Hazards of Wreck Diving and Overhead Environments
Penetration Lines
Research and Locating
Contingency Planning
Open Water Dives
Students will complete six penetration / overhead dives with an accumulated bottom time of 100 minutes.
Course Options
Courses are offered on a regular basis.
Prerequisites and Requirements
Students must have the following for class:
Students must be 18 years of age or older
Students must have a minimum of 50 logged dives
Students must have an Advanced diver rating
Students must have a Wreck diver rating
TDI student folder on file
Diversions' Student Agreement on file
Students must purchase a copy of TDI's Advanced Wreck Diving manual.
Please review the technical diving gear list for gear requirements for this course
Course Fees
Please contact us for the most current pricing. Course fees do not include books, gases, or certification card.
Course Availability
Courses are offered on a regular basis and upon request. Please review our calendar and then contact us.
Copyright , Diversions Scuba, LLC. All rights reserved.