PADI Advanced Open Water Diver
Advanced Open Water certification is the next step in your training as a diver. You can think of this course as a sampler of the many things you can do in the underwater world including but not limited to Underwater Navigation, Night Diving, Deep Diving, and much, much more. And as with your Open Water Course, we will again convey the need for safety and responsibility while having lots of fun.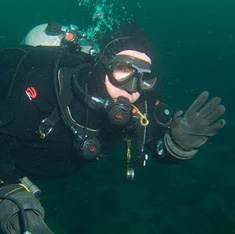 Classroom
In the classroom section of the course, you will be exposed to a variety of subject matter and how it relates to specialized types of scuba diving. We still outline the requirements for diving such as gear and knowledge. However, we also teach you skills necessary for each specialty. Each specialty will also include a pre-dive briefing, the dive itself, and a follow-up post-dive debriefing.
Open Water Dives
The Advanced Open Water Course includes two core dives and three elective dives.
Core Dives
Deep Dive - Experience the deep reaches of the underwater realm. Notice how colors are altered at depth. See if Nitrogen Narcosis affects you at depth by undoing a combination lock for time and comparing it to your surface time. You will also be practicing safety stops.
Navigation Dive - Become an expert at navigation. Measure rough distances with kick cycles, navigate square and triangle patterns with a compass. You will actually be able to find your way back to the boat or point of entry.
Elective Dives
Some examples of the elective dives we offer:
Night Dive - Gets you up close and personal with the Walleye and Northern Pike. We will further your exploration introducing you to the nocturnal underwater world. Underwater lights will be provided.
Underwater Photography Dive - Incorporates a basic photography class with the underwater world. You will learn the secrets behind those fascinating picture we all drool over. Who knows, maybe you will have the eye for photography that the world is waiting for.
Multilevel Dive - Dive computers allow you to be credited for ascending in levels during your dive. This dive allows you to try out a dive computer and compare it to the recreational dive table and wheel. Computers will also be downloaded onto a PC to view your actual dive profiles.
Search and Recovery Dive - Everyone loses something at one time or another. Learn search patterns to find different sized objects and patterns to use in different underwater terrain. Use lift bags to lift heavy objects to the surface.
Drysuit Dive - Stay warm while wreck or deep diving or diving in Wisconsin any time other than mid-summer. We have rental drysuits in varying sizes and styles allowing us to outfit almost anyone.
Wreck Dive - Appreciate the great tradition of Wisconsin's nautical heritage. Explore the hidden past of antique vehicles lost through the ice or driven off of cliffs. The curious history of most wrecks, as well as the attraction of wildlife to them, make diving a fun and enjoyable past time.
Other dives may include Peak Performance Bouyancy, Boat Dive, Underwater Naturalist, or Diver Propulsion Vehicle (DPV)
Course Options
We offer two options to complete the PADI Advanced Open Water Course:
The Weekend Course
PADI Adventures in Divin Manual for Home Study
Five dives over two days (two core and three elective)
Classroom and Knowledge Development sessions before and after each dive
The Modular Course
PADI Adventures in Divin Manual for Home Study
Five dives completed as scheduled with your instructor (two core and three elective)
Classroom and Knowledge Development sessions before and after each dive
Requirements
Students must have the following for class:
PADI Open Water Diver certification or equivalent
Mask, Fins, Snorkel
PADI student folder on file
Diversions' Student Agreement on file
Course Fees
Please contact us for the most current pricing
Course Availability
Courses are offered on a regular basis and upon request. Please review our calendar and then contact us.
Copyright , Diversions Scuba, LLC. All rights reserved.