PADI Divemaster
Looking for the first step in working with scuba as a career? Your adventure into the professional levels of recreational scuba diving begins with the PADI Divemaster program. Working closely with a PADI Instructor, in this program you expand your dive knowledge and hone your skills to the professional level. PADI Divemaster training develops your leadership abilities, qualifying you to supervise dive activities and assist instructors with student divers.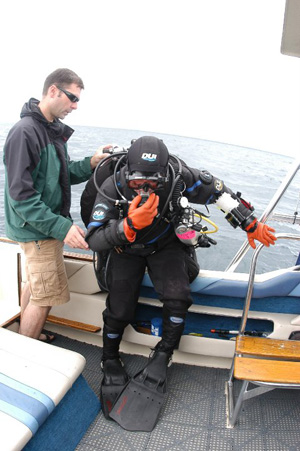 Prerequisites
Divers interested in the PADI Divemaster Course must have a Rescue Diver or equivalent rating.
Classroom
During the PADI Divemaster program, you learn dive leadership skills through both classroom and independent study. You complete water skills and stamina exercises, as well as training exercises that stretch your ability to organize and solve problems as well as help others improve their scuba. You put this knowledge into action through a structured internship or series of practical training exercises.
As you progress through your Divemaster course, you'll expand your diving knowledge, hone you skills and increase your confidence. Then, as a PADI Divemaster, you'll use these attributes to lead, mentor and motivate other divers and experience the joy of seeing them transformed by the majesty of the the acquatic realm.
Open Water Dives
A number of open water dives are required to complete your Divemaster certification. Please contact us for more information.
Course Options
This course requires a serious commitment of time and energy. Please contact us to set up your course, or get started today by clicking on the banner below.

Requirements
Students must have the following for class:
Students must have a minimum of 20 logged dives to begin this course
Students must have 60 logged dives to finish this course
Students must have a diving medical on file
Students must have a PADI Rescue Diver or equivalent rating
PADI student folder on file
Diversions' Student Agreement on file
All knowledge reviews completed
Course Fees
Please contact us for the most current pricing.
Course Availability
Courses are offered on a regular basis and upon request. Please review our calendar and then contact us.
Copyright , Diversions Scuba, LLC. All rights reserved.