PADI Rescue Diver
"Challenging" and "rewarding" best describe the PADI Rescue Diver course. Building upon what you've already learned, this course expands on what you already know about how to prevent problems, and how to manage them if they occur. The fun part about this course is rising to challenges and mastering them. Most divers find this course both demanding and rewarding, and at the end, say it's the best course they've ever taken.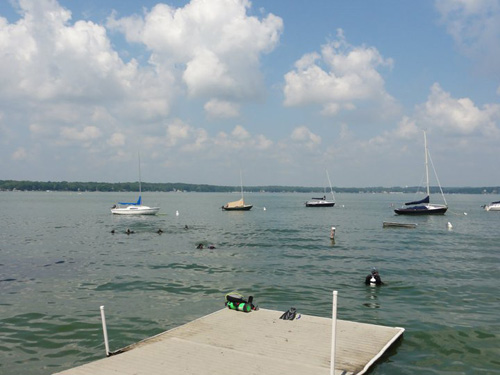 Prerequisites
Divers interested in the PADI Rescue Diver Course must have an Advanced Open Water or equivalent rating. In addition, divers must have a current CPR certification. PADI Emergency First Responder meets this requirement.
Classroom
The classroom portion of this class covers several key concepts and topics:
Self Rescue & Diver Stress

Recognition of problems and stress is a major part of diving emergencies.

Diving First Aid

First aid equipment and procedures will be reviewed. This is NOT a replacement for a first aid or CPR course.

Emergency Management

Various forms of readiness and the Seven 'A's' of accident management.

Equipment Considerations

Common problems related to equipment and equipment releases will be discussed.
Open Water Dives
A number of open water dives will cover the following exercises:
Exercises 1-4:

Swimming assists, non-swimming assists, panicked diver response and assists, and underwater problems.

Exercises 5-6:

Missing diving procedures and surfacing the unconscious diver.

Exercise 7-10:

In-water artificial respiration and equipment removal.

Exercises 11-12:

Diving accident scenarios.
Course Options
We offer two options to complete this course:
The Weekend Option:
PADI Rescue Diver Manual
Classroom Study covering topics outline above on Friday night and Saturday morning
Open Water dives Saturday afternoon
The E-Learning Option:
Click on banner below to begin classroom study
Once complete, call to schedule exam session and open water dives
Exam session on Saturday morning
Open Water dives Saturday afternoon

Requirements
Students must have the following for class:
PADI student folder on file
Diversions' Student Agreement on file
All knowledge reviews completed
Course Fees
Please contact us for the most current pricing.
Course Availability
Courses are offered on a regular basis and upon request. Please review our calendar and then contact us.
Copyright , Diversions Scuba, LLC. All rights reserved.