Diversions then...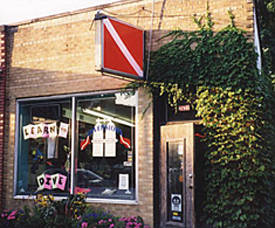 Diversions Scuba began in 1994 in Tamara Thomsen's apartment. Scuba lessons were taught with the concept of teaching around the student's schedules and in smaller groups. Various courses offered by the Professional Association of Diving Instructors (PADI) were taught virtually every night. By 1995, the operation had expanded to occupy Tami's entire apartment, basement, and one bay of Dan O'Malley's Sun Prairie business, O'Malley Electric. In 1996 we opened a retail shop on University Avenue. The dream of opening Southern Wisconsin's first complete Recreational and Technical Dive Facility was then afloat with the addition of the courses from Technical Diving International (TDI). After 9 years we moved to a larger retail location in Middleton. Outgrowing that facility after only 4 years, in November of 2009 we moved to our current retail facility at 5504 University Ave in Madison. This new facility allows us twice the space and plenty of growing room.
...and Now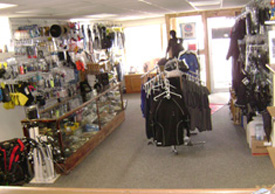 Tami's love and knowledge of cave, wreck, mixed gas, and rebreather diving make Diversions Scuba a good home for the extended range adventurer. In addition to air fills, Nitrox, Trimix, and Argon fills also became readily available. We are Madison's first PREMIERE PADI 5-STAR TRAINING FACILITY and a TDI Training Facility. Diversions Scuba has been honored with three achievement awards from PADI for Excellence in Education, Community Involvement, and the Environment and has received recognition from the Dane County Board of Supervisors for our community activities. The shop currently sells a number of the scuba diving's finest quality equipment and continues to offer small classes with flexible training schedules.
So why choose Diversions?
In addition to those things listed above, we feel Diversions Scuba has the most qualified and comprehensive recreational and technical dive training programs, and the most experienced dive staff in Madison to back it. Our instructional staff consists of avid divers, not just professional divers. We have experience beyond all others in the realm of recreational diving as well as technical and mixed gas diving. You can be confident that your equipment is being handled by our expert and certified service department. Our compressed air is tested quarterly, ensuring that you receive high-quality scuba diving air. And finally, our friendly and knowledgeable sales department staff is always available to assist you in making informed scuba equipment purchases.
Copyright , Diversions Scuba, LLC. All rights reserved.