PADI Enriched Air Diver
Have you ever wished that you could have gotten more out of your dive for your dollar? Ever wanted to take that third dive trip of the day but felt too exhausted? Want to extend your bottom time on a research dive? Then Nitrox is for you!
The advantages to Enriched Air diving appeal to a wide range of divers. Not only does it increase bottom times, decrease surface intervals and increase safety from decompression sickness, it also reduces post dive fatigue!
The only disadvantage: pay close attention to max depth and bottom time. Every trained diver does that anyway! Nitrox is easy to learn and even easier to use, why not take advantage of Enriched Air and make the most of your dive!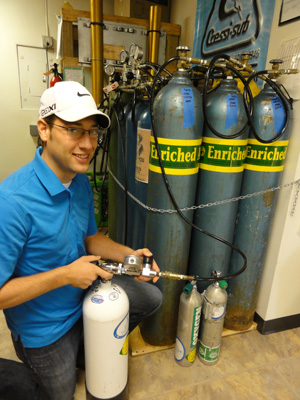 Classroom
In the classroom potion of the course, you will be exposed to a variety of subject matter related to enriched air diving. Some of the lecture topics will include:
Enriched Air Equipment
Enriched Air Diving Theory
Phisiology and Gas Absorbtion
Planning an Enriched Air dive
Use of Oxygen Analyzer
Open Water Dives (Optional)
The open water dives give you a chance to apply what you have learned by studying the PADI Enriched Air Diver Manual and during your classroom session. Most of what is practiced in the open water dives involves pre-dive planning and enriched air diving activities.
Pre-Dive: Plan dive using RDP; Evaluate conditions.
Post-Dive: Calculate repetitive group and oxygen exposure; Evaluate student preformance
Course Options
In Store
We offer the classroom portion of this course regularily where you will learn from a trained instructor.
The E-Learning Course
Click on the banner below and complete the classroom portion on your own. From there you will need to schedule a time with an instructor to complete the exam portion and complete the hands-on portion.

Prerequisites and Requirements
Students must have the following for class:
Students must be 12 years of age
Students must have a PADI Open Water or equivalent rating
PADI student folder on file
Diversions' Student Agreement on file
All knowledge reviews completed
Course Fees
Please contact us for the most current pricing.
Course Availability
Courses are offered on a regular basis and upon request. Please review our calendar and then contact us.
Copyright , Diversions Scuba, LLC. All rights reserved.