PADI Ice Diver Specialty
The Coolest Diving Around!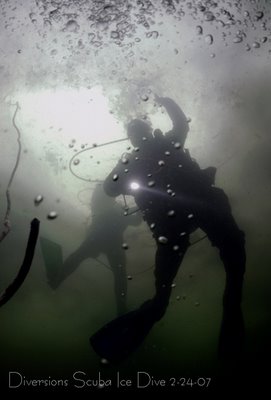 Ice diving welcomes you to a never ending dive season, opening up chances to access favorite dive sites year-round! Opportunities to dive in places with heavy boat traffic or poor visibility that may be hazardous or unfavorable in summer months can now be accessed. Objects lost through the ice, such as ice shanties, snowmobiles, or even vehicles, can be recovered.
The most interesting placeto explore during an ice dive is directly beneath the ice sheet. Ice ridges, abandoned fishing holes, cracks and freeze-overs all provide interesting areas to look. By far the most fascinating time to ice dive is on freshly frozen 'black ice'. It is like diving under glass and can provide terrific photographic opportunities.
Many divers play ice diving games - Upside down underwater golf uses ping-pong balls instead of golf balls. Divers flip upside down, stand on the ice sheet and putt into augured out holes. Upside down underwater skiing is also a diver favorite!
Video Credit: Todd Milewski, www.madison.com
Classroom
In the classroom potion of the course, you will be exposed to a variety of subject matter related to ice diving. Some of the lecture topics will include:
Equipment selection and preperation
Line Tender responsibilities
Site selection and hole preperation
Tether lines and safety procedures
Open Water Dives
The open water dives give you a chance to apply what you have learned by studying the PADI Ice Diver Manual and during your classroom session. Most of what is practiced in the open water dives involves pre-dive planning and ice diving activities.
Pre-Dive: Plan dive using RDP, evaluate conditions, equipment and site preperation
Dives: Practice safety procedures and proper ice-diving procedures
Post-Dive: Discuss dive and evaluate student preformance
Course Options
Courses are offered on a regular basis during winter months, as ice conditions allow.
Prerequisites and Requirements
Students must have the following for class:
Students must be 18 years of age
Students must have a PADI Advanced Open Water Diver or equivalent rating
Students must have all gear to include mask, fins, snorkel, BCD, regulator, and two dive lights (one primary, one backup)
PADI student folder on file
Diversions' Student Agreement on file
All knowledge reviews completed
Course Fees
Please contact us for the most current pricing.
Course Availability
Courses are offered on a regular basis and upon request. Please review our calendar and then contact us.
Copyright , Diversions Scuba, LLC. All rights reserved.