PADI Night Diver Specialty
See the world in a whole new light!
Like a brush on a black canvas, your light sweeps across the night reef, igniting a vibrant spectrum that somehow eluded you during the day. You pause, amazed by nature's endless palette; everywhere your light falls new hues burst forth. Suddenly you see something large near your. It's within touching distance...it's a fish you have never seen during daylight hours. You quickly lock your camera-finder on it and snap a picture. Your night dive has paid off.
While night diving sounds eerie, perhaps even a bit frightening to some divers, for others it is the first specialty they try. Night diving isn't difficult, and a few guidelines and procedures make night diving even more fun and safe. The PADI Night Diver specialty course teaches you these procedures and lets you practice with an instructor at hand.
There are many good reasons to don our SCUBA gear well after the sun goes down. To many divers, a night dive spells adventure and a chance to explore the unknown. They hope to discover things they wouldn't during the day, or they might be attracted to the challenge darkness brings to diving. Aquatic life brings another exciting attraction to diving at nigh - at sunset the night creatures emerge. By diving at night, you encounter a new set of organisms and a new set of behaviors.
Whatever your reasons are, sign up soon for the PADI Night Diver Course and take advantage of the new adventures found when diving in the dark.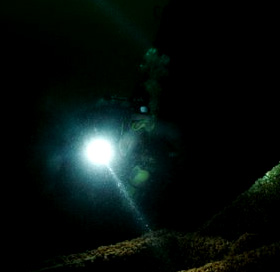 Classroom
In the classroom potion of the course, you will be exposed to a variety of subject matter related to night diving. Some of the lecture topics will include:
Night Diving Equipment
Underwater Light Systems
Lights for Navigation
Special Night Diving Situations
Night Diving Navigation
Open Water Dives
The open water dives give you a chance to apply what you have learned by studying the PADI Night Diver Manual and during your classroom session. Most of what is practiced in the open water dives involves pre-dive planning and night diving activities.
Pre-Dive: Plan dive using RDP. Evaluate conditions. Light Preperation
Post-Dive: Properly cleaning and stowage of lights. Discuss dive and evaluate student preformance
Course Options
Courses are offered on a periodic basis as interest builds. To schedule a private class, please give us a call.
Prerequisites and Requirements
Students must have the following for class:
Students must be 12 years of age
Students must have a PADI Open Water Diver or equivalent rating
Students must have all gear to include mask, fins, snorkel, BCD, regulator, and two dive lights (one primary, one backup)
PADI student folder on file
Diversions' Student Agreement on file
All knowledge reviews completed
Course Fees
Please contact us for the most current pricing.
Course Availability
Courses are offered on a regular basis and upon request. Please review our calendar and then contact us.
Copyright , Diversions Scuba, LLC. All rights reserved.